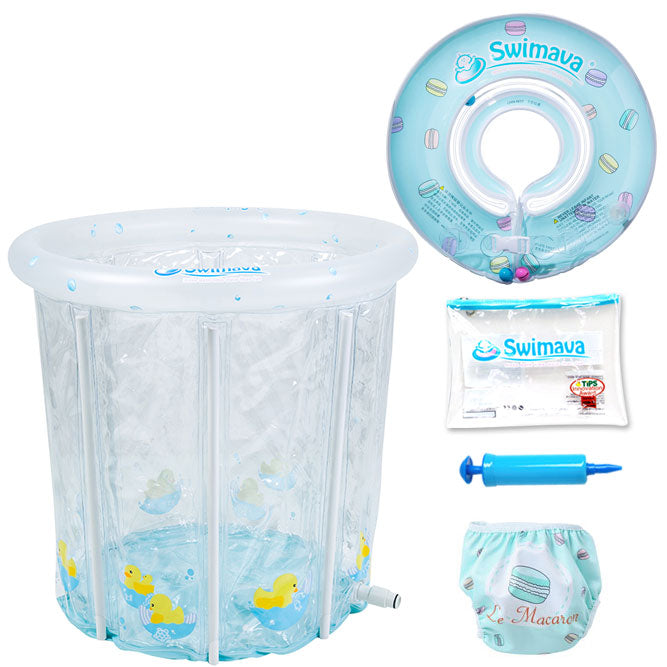 2022 New Design -Swimava P2 Baby Spa Pool + Ring + Diaper Combo Set - Holiday Sales!
Our Swimava P2 Baby Spa Set is available now -While Sipply last! 
   Swimava Baby Spa Kit -  Large (86 Gallons) Size Swimava Baby Pool Home Spa with Baby Float & Swim Diaper included

  The portable design is design to use in Larger bathroom with Jazzical/ Large shower or access to ground drainage. A Power pump may require if you don't have access to drainage.
Featuring : Simply and easy to setup, typical assembly time is about 5-10 minutes
Shipping Dimensions: 31 inches x 4.5 inches x 12 inches
Assembled Dimensions: 31.5" Height x 32" Outer Diameter inflated.
Capacity : 86 Gallons 
Please check measurement before purchase.
require opening space/ flat surface of 34 x 36" with

drainage

Suitable for infants ages 3 -18 months
Net weight 4.3 kg (9.5 lbs) - 
Non-Metal and lead free parts
Assembling time less than 10 minutes
Safe and long-lasting  product
Lead and Phthalate free material
Fast drain valve and hose included 
Packages Contents (P2 Large Spa Pool + G1 Ring, Swim diaper)
1. Everything include package A Plus  
2. G1 Ring of your choice
3. Hand Pumps 
4
. Cloth 
Swim Panties (One Size) 
5. G-1 User Guide 
Optional Garden Hose connection kit ($1) :
provide additional water drainage solution :  extended the 2 meters drainage hose by connected to standard 3/4" garden hose to recycling water / outdoor drainage if necessary.

Shipping and Delivery:
- ETA 3-8 days from California, USA. Discount code can be use one at a time. *Shipping fee is extra 
- Please confirm the measurement of Baby Spa and will fit for customer's space before ordering . Have questions or concern ? , Please email to swimavausa@gmail.com
** We only support direct purchase from Swimava USA, Items ordered from global site and other source may not be supported.
**Never leave your infant unattended in or near water !
 P2 User Guide